SENATOR THE HON. FRANKLIN KHAN
MINISTER OF ENERGY AND ENERGY INDUSTRIES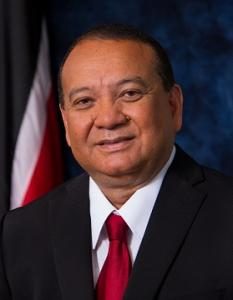 Mr. Franklin Khan is a petroleum geologist by profession, having spent 20 years in the energy sector both locally and abroad in a broad range of positions both at the technical and managerial levels.
Mr. Khan holds a BSc Degree in Geology and Geography (1980) from UWI (Mona) Jamaica and an MBA from Arthur Lok Jack GSB, UWI.
Professionally, Mr. Khan served as President of the Geological Society of Trinidad and Tobago on two occasions. He also served as a Director of the Water and Sewage Authority (1986-1990) and as Chairman of National Petroleum Marketing Co. Ltd (NP) from 2001-2002.
In public life, he was elected Member of Parliament for Ortoire Mayaro in 2002 and served as Minister of Works and Transport under the Manning Administration. In 2011, he was elected Chairman of the Peoples National Movement (PNM) and together with the Political Leader; Dr. Keith Rowley led the party to victory in the recently concluded General Elections.
Mr. Khan currently holds the following 3 key public offices
Chairman of the PNM
Leader of Government Business in the Senate
Minister of Energy and Energy Industries