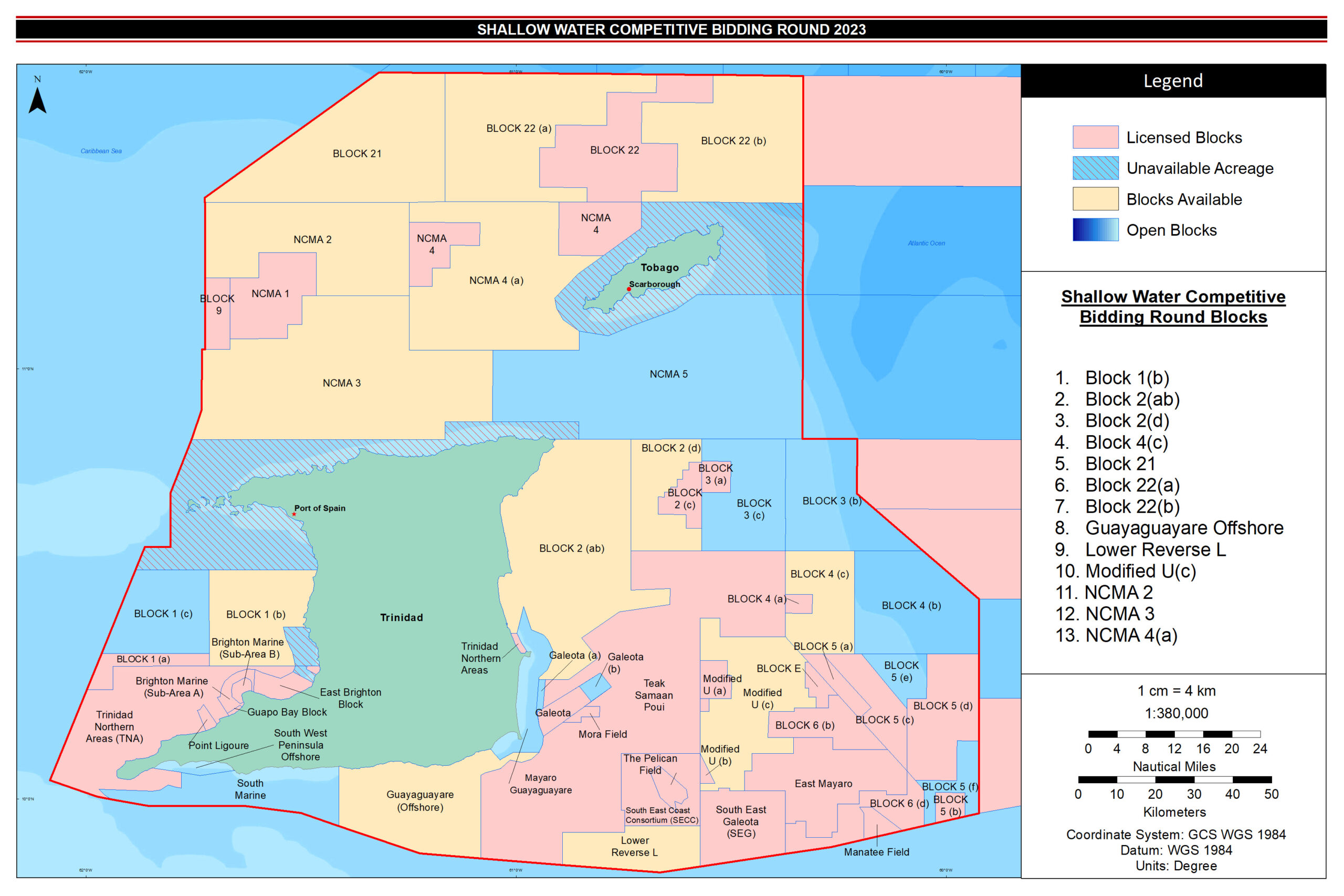 The Government of the Republic of Trinidad and Tobago invites stakeholders' participation in its Shallow Water Competitive Bidding Round 2023. This bid round contains thirteen (13) offshore blocks, namely, Block 1(b), Block 2(ab), Block 2(d), Block 4(c), Block Lower Reverse L, Block Modified U(c), Guayaguayare (Offshore) Block, Block 21, Block 22(a), Block 22(b), Block NCMA 2, Block NCMA 3 and Block NCMA 4(a). These blocks are located along the western, eastern, southern and northern coasts of Trinidad and Tobago respectively.
The Shallow Water Competitive Bid Round was opened on October 3rd, 2023 and will run for six (6) months with the deadline for submission of bids being 12 noon on April 2nd, 2024. Successful bids will be announced four (4) months following the close of bidding.
Competitive Bidding Order (CBO)
The Petroleum Regulation (Shallow Water Competitive Bidding) Order, 2023 outlines the requirements of bid submission, maps and descriptions of the blocks, the summary bid form, and a revised evaluation method for bid submissions.
Model Production Sharing Contract (PSC)
These shallow water blocks will be governed by Production Sharing Contracts (PSC) agreements. The 2023 Model PSC ensures that operations are carried out to international standards and that all parties receive a fair share of revenue generated by the extraction and disposal of crude oil and natural gas. The Model PSC has been updated to reflect recent regulatory and economic changes and will be available in the coming weeks.
Data Package
A pre-bid fee is no longer required for interested parties to participate in this Shallow Water Competitive Bid Round. The data package will now be available at no cost and provides information on the thirteen (13) blocks on offer to assist in acreage evaluation as detailed in the Data Package Listing. The data package also contains the Local Content and Local Participation Framework and the National Oil Spill Contingency Plan.
Guidelines for obtaining a data package are outlined in the Procedure for Obtaining a Data Package. You are required to fill out the Data Package Request Form and send via e-mail to bidround@energy.gov.tt . You will then receive instructions from the MEEI for the execution of a Data Use Agreement to obtain access to the Data Package.
Virtual Data Room
The Ministry has collaborated with Lynx Information Systems Inc. (Lynx) to display a sample of the technical data that is available for the Bid Round via a Virtual Data Room (VDR). This VDR can be accessed via the following link: https://ttshallowwaterbid2023.com/.
Other Useful Links
Contact Us:
Email: bidround@energy.gov.tt
Kimberlee London
Senior Geologist (Ag.)
225-4EEI ext. 2360
Keon Dube
Senior Geophysicist (Ag.)
(868) 225-4334 ext. 2371