Minister of Energy and Energy Industries and Minister in the Office of the Prime Minister, The Honourable Stuart R. Young, MP, met with His Excellency Dongil Oh, Ambassador of the Republic of Korea; Mr. Jinwoo Jung, First Secretary and Dr. Seungok Ryu, Researcher attached to the Embassy of the Republic of Korea in Trinidad and Tobago. The meeting was held at the Ministry of Energy and Energy Industries', International Waterfront Complex Head-Office, today, Friday 29th September, 2023.
The parties engaged in discussions on bilateral initiatives in the field of energy cooperation, including Korea's importation of energy and energy-related products as well as projects incorporating renewable energy. The meeting also focused on the signing of a Memorandum of Understanding (MOU) between the Caribbean Centre for Renewable Energy and Energy Efficiency (CCREEE) and the Korea Energy Agency (KEA). At the meeting, Minister Young indicated that given the Republic of Korea's expertise in areas of technology and renewable energy, the Republic of Trinidad and Tobago welcomes opportunities for knowledge sharing as it would be beneficial for our energy sector professionals.
Minister Young recognizes the gains to be realized from steady trade relations between the Republic of Trinidad and Tobago and the Republic of Korea as The Republic of Korea is one of Trinidad and Tobago's largest export markets for products such as LNG, Ammonia and Methanol.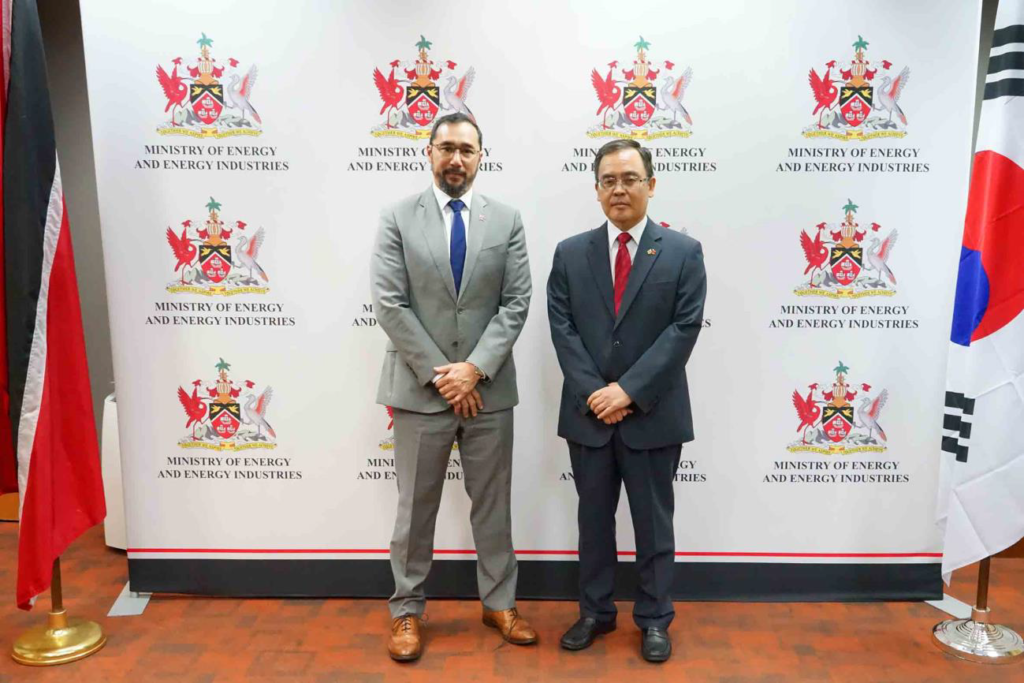 The Honourable Stuart R. Young MP Minister of Energy and Energy Industries and Minister in the Office of the Prime Minister and His Excellency Dongil Oh, Ambassador of the Republic of Korea