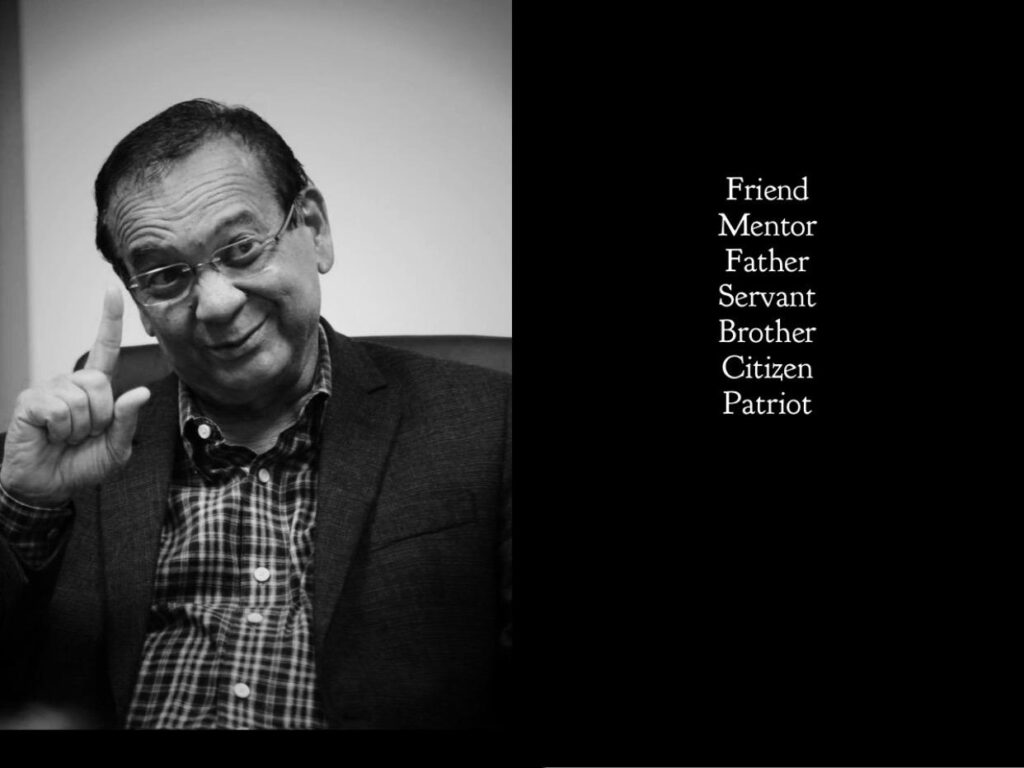 Due to the passing of Senator the Honourable Franklin Khan, the Ministry of Energy and Energy Industries has provided this space on our website for persons wishing to express condolences.
661 condolence messages
May you rest in peace smiling Minister and be remembered for your committment to fairness in public service. My condolences to your family.
10 May 2021
Condolences to Mrs Khan and family from Barbara Ryan and family, and the members of Party Group 29 (Arima Constituency). May he rest in eternal peace.
10 May 2021
Condolences to the family of Mr. Franklin Khan. His former classmates from Arthur Lok Jack Graduate School of Business graduating class of 2009 fondly remember his pleasant, respectful disposition, his oratory skills, several stimulating intellectual discussions, his agility in making a very complex issue a practical solution-oriented one. Rest in peace and rise in glory. NUFF RESPECT.
10 May 2021
Condolences to the family of the late minister Mr Franklin Khan May he rest in peace !!! A true pioneer and a great service to this land of ours
10 May 2021
Franklin khan rip and may god continue to bless your family In this time of grief and thank you for work to the people of trinidad and tobago and thank you for service the pnm and
10 May 2021
My deepest condolenses to the family friends and co workers of The late Mr Khan Eternal rest grant unto him Lord Thank you for your dedicated service to T&T Gone will not be forgotten Good and faithful servant RIP
10 May 2021
He was gentle and a gentleman.I had the privilege of meeting him when he was Minister of Works and Transport.He had responsibility for the NIDCO Board of which I was a member.He was humble,respectful encouraging and accomodating.He typified what service should be. I pray that now he is resting comfortably for he has done well as a good and faithful servant of us all.Amen
10 May 2021
Farewell to a resourceful, diligent, and loyal servant of the people. Humility, wisdom, patriotism, and attentiveness were also some of your many admirable traits. Your positive impact was significant on the lives of many. I pray that your family will be comforted in this sudden and very difficult time of grief. I pay tribute to the late Minister and Senator Franklin A. Khan, may the angels carry you in their reassuring and loving arms to that place of eternal peace.
10 May 2021
Deepest condolences 💐 to the Khan family. Thank you "Frankie" for your loyal & never tiring service to our country. Rest In Peace now 🙏🏽
10 May 2021
What a Friend I had in Frankie - May his soul Rest In Peace.....amen.......and my condolences to Laura and family.
10 May 2021
Rest in peace beautiful soul.
10 May 2021
Deepest condolences to Khans' family and friends. Rest in peace Franklin.
10 May 2021
The Right Honourable, Mr Franklin Khan, "Rest In Eternal Peace", patriot. Thank you for your great service to our beautiful country of Trinidad and Tobago. You will be sorely missed and surely remembered. I will forever remember your unique smile which no one can replicate. I convey my condolences to his beloved wife Laura and their wonderful children. What a lost to his great party, the People's National Movement. Take great care. Love you and God bless, always.
10 May 2021
On behalf of the Hayes and Edwards family I to express our condolences to the Khan and the PNM FAMILIES ON the passing of a Minister Khan. A phenomenal human being who Cared for the people of Trinidad and Tobago more than himself. 😭😭😭😭😭😭🙏🙏🙏🙏
10 May 2021
The Lord has called you home Frankie because your work has finished. Thank you for everything that you did for your people. You've made not only your family and the people of Mayaro proud but the country of Trinidad and Tobago! Goodbye Frankie, as you rest peacefully within the loving arms of our Dear Lord 🙏💐 👋🏻👋🏻
10 May 2021
Condolences to the Khan family during this time. Thank you for your contribution to our country Minister Khan. RIP.
10 May 2021
My deepest sympathy to the Khan family and may the lord strengthen your hearts through this difficult time🙏🙌
6 May 2021
Thank you Mr. Khan for your contribution to the energy sector and by extension to the dedicated development of Trinidad and Tobago.
6 May 2021
Condolences to the relatives of Minister Franklin Khan. Sleep in peace my classmate. Thanks for your service to Trinidad and Tobago.
6 May 2021
Thank you Mr. Franklin Khan for your selfless service in your Ministry. You have done well and your works and efforts will be remembered. I pray for comfort and consolation for your friends, loved ones, and close family members. Indeed, you have shown a charismatic demeanor with your smile, pleasant disposition with your attitude, and patriotism while serving your country for so many years. You will be remembered always and may your soul rest in heavenly peace.
6 May 2021