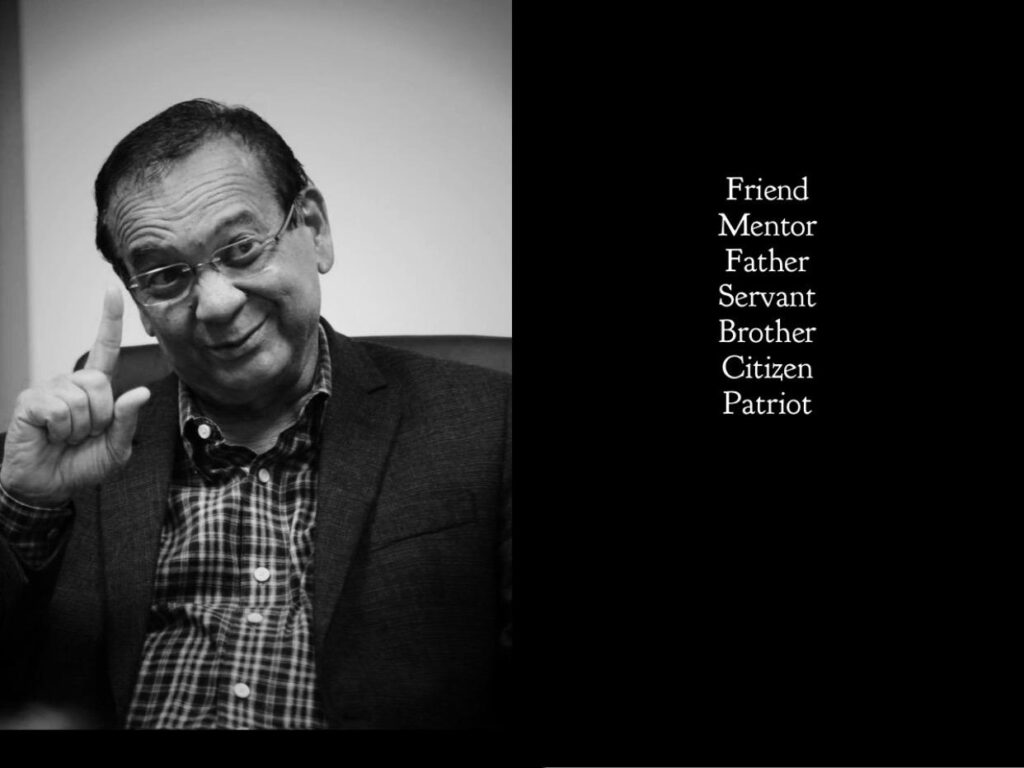 Due to the passing of Senator the Honourable Franklin Khan, the Ministry of Energy and Energy Industries has provided this space on our website for persons wishing to express condolences.
669 condolence messages
On behalf of the Hayes and Edwards family I to express our condolences to the Khan and the PNM FAMILIES ON the passing of a Minister Khan. A phenomenal human being who Cared for the people of Trinidad and Tobago more than himself. 😭😭😭😭😭😭🙏🙏🙏🙏
10 May 2021
The Lord has called you home Frankie because your work has finished. Thank you for everything that you did for your people. You've made not only your family and the people of Mayaro proud but the country of Trinidad and Tobago! Goodbye Frankie, as you rest peacefully within the loving arms of our Dear Lord 🙏💐 👋🏻👋🏻
10 May 2021
Condolences to the Khan family during this time. Thank you for your contribution to our country Minister Khan. RIP.
10 May 2021
My deepest condolenses to the family friends and co workers of The late Mr Khan Eternal rest grant unto him Lord Thank you for your dedicated service to T&T Gone will not be forgotten Good and faithful servant RIP
10 May 2021
My deepest sympathy to the Khan family and may the lord strengthen your hearts through this difficult time🙏🙌
6 May 2021
Thank you Mr. Khan for your contribution to the energy sector and by extension to the dedicated development of Trinidad and Tobago.
6 May 2021
Condolences to the relatives of Minister Franklin Khan. Sleep in peace my classmate. Thanks for your service to Trinidad and Tobago.
6 May 2021
Thank you Mr. Franklin Khan for your selfless service in your Ministry. You have done well and your works and efforts will be remembered. I pray for comfort and consolation for your friends, loved ones, and close family members. Indeed, you have shown a charismatic demeanor with your smile, pleasant disposition with your attitude, and patriotism while serving your country for so many years. You will be remembered always and may your soul rest in heavenly peace.
6 May 2021
My thanks to Mr. Franklin Khan's wife and his family for sharing him with the nation. Many public interviews showed a character from which citizens could model best attitude and behaviour, in a period when many of our positive norms are no more. His Selflessness and intent to put the business of the people first was present in each interview, even the tough ones. This is a legacy worthy of 'Thank You' from a stranger. My condolences to you. I pray that his memories would be a source of continuing strength for the family and for all persons with whom he had a relationship. May God send his angels to take him on his journey and grant him eternal rest. May he Rest In Peace.
3 May 2021
Condolences to the Khan family RIP Minister Khan!
30 Apr 2021
Rest in Pace, we thank you for the legacy.
30 Apr 2021
My deepest condolence to the khan family
30 Apr 2021
Thank you for your service to this nation. SIP Sir.
30 Apr 2021
My deepest sympathy to you and family on the passing of Minister Khan. Did not know him personally but always found him to be fair and honest and such a pleasant person. May he rest in peace in His loving arms always.
30 Apr 2021
My condolences to Laura and family on their loss. I have known Frankie for a number of years and I was saddened to hear of his passing. May his soul rest in peace and may God comfort his family during this difficult time.
30 Apr 2021
As you Rest In Peace may your smile continue to be in the hearts and minds of us all.
27 Apr 2021
Deepest Condolences to the Khan family. Thank you for your service to community & country. May you continue to rest in eternal peace 🙏
27 Apr 2021
My history with Minister Khan goes back a long way, from the time he retuned from Mona in 1980 in fact. He was a dedicated technocrat and alter on an equally dedicated servant to the Government and people of T&T. He will be missed by all. My sincerest condolences to the family
27 Apr 2021
His dedication, expertise, pleasant disposition, humility will be missed. Condolences to the Khan family. Continue to be strong.
26 Apr 2021
Condolences to the family and loved ones of Mr Khan. I will remember him as a servant to country and party. A true patriot and giant in his own right, for whose service, Trinidad and Tobago is better off. Personally he was a teacher and mentor who expanded my knowledge significantly and contributed to my development. I am eternally grateful.
26 Apr 2021